November 1, 2023
Mach Natural Resources launched an IPO this week, raising nearly $172MM. The new offering overlaps with two themes East Daley expects to highlight in this year's Dirty Little Secrets annual report.
Tier-2 Basin Upside: Mach Natural Resources is a limited partnership based in the Anadarko Basin. The company reported roughly half of its 2022 revenue from oil sales and the other half from natural gas and NGLs, but recent earnings from natural gas have declined as prices fell in 2023 (East Daley predicted lower prices a year ago as part of the 2023 Dirty Little Secrets report).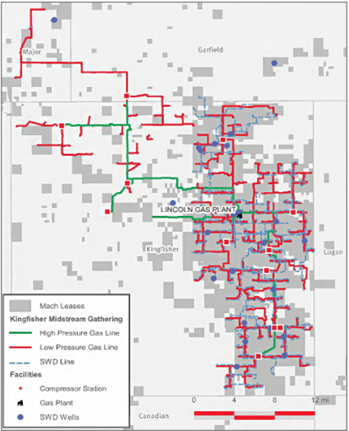 However, another of EDA's high-conviction calls for the next several years is a bullish outlook on Henry Hub prices in 2026-27 as LNG export demand ramps to record levels. We expect the demand pull will be so great that traditional gas-focused basins like the Haynesville and dry Eagle Ford will not be enough to meet new LNG exports.
EDA expects Tier 2 basins like the Anadarko/STACK and Western Rockies will need to step up in order to balance the market, which also means stronger pricing than what the Henry Hub forward curve currently offers. Mach is one of the few pure-play opportunities in the Anadarko Basin, and market fundamentals might provide tailwinds in 2026 and 2027.
Non-core Asset Potential: Mach Natural Resources also owns a smattering of small midstream assets in Oklahoma that could be picked up through consolidation or by midstream start-ups.
Notably, Kingfisher Midstream is now owned by Mach. The Kingfisher assets include a 260 MMcf/d gas plant and 300 miles of gas gathering. EDA estimates throughput at around 90 MMcf/d (see map).
Alta Mesa Resources constructed the Kingfisher system in 2017-18 with hopes of filling it with growth from the producer's acreage plus several other operators in the area. However, excitement over the STACK play dissolved in 2019, even before COVID, due to geological/spacing issues and downside to natural gas prices.
A reset of the play and improvements in drilling might revive the area and bring Kingfisher Midstream back into consideration if macro fundamentals create an opportunity for natural gas growth in 2026-2027. For more details on East Daley's outlook and risks to our Marco theory, watch for our 2024 Dirty Little Secrets launch in December 2023. – Ryan Smith.
Sign Up for the Crude Oil Edge
East Daley's
Crude Oil Edge
provides weekly updates on the US crude oil market including supply and demand fundamentals, basin-level views, and analysis of market constraints and infrastructure proposals. We explore sub-basin dynamics and provide market insights on crude oil flows, production growth, and import and export characteristics.
Sign up now for the Crude Oil Edge
.
Energy Data Studio
East Daley Analytics has launched Energy Data Studio, a platform for our industry-leading midstream data and commodity production forecasts. All clients have access to the new client portal. If you have not yet logged in, please fill out the form to request a registration email be resent.
Energy Data Studio leverages our G&P data set for insights into midstream assets across every major oil and gas basin in North America. Users can navigate detailed visual dashboards by region, pipeline, or individual asset to understand crude oil, natural gas and NGL supply at the most granular level.
Energy Data Studio is available through data downloads from the visual interface, in Excel files, or as a direct feed delivered into subscribers' workflow via secure file transfer. To learn more about Energy Data Studio, please contact insight@eastdaley.com.
The Daley Note
Subscribe to The Daley Note (TDN) for midstream insights delivered daily to your inbox. The Daley Note covers news, commodity prices, security prices and EDA research likely to affect markets in the short term.