The Daley Note: March 29, 2023
Two LNG export projects have reached a final investment decision (FID) in March, bringing into focus a second LNG demand wave East Daley Analytics expects to crest in the 2025-2030 period. We recently reviewed our long-term outlook for LNG exports and the impact to natural gas markets in 2023 Dirty Little Secrets.
Venture Global LNG announced it will move forward with Phase 2 of the Plaquemines LNG facility in southeastern Louisiana 1 after securing $7.8 billion of additional project financing. This news comes just 10 months after the company sanctioned Phase 1. Overall, Plaquemines LNG has secured $21 billion in total investment. The project will have a total nameplate export capacity of 20 MMtpa, or ~2.67 Bcf/d.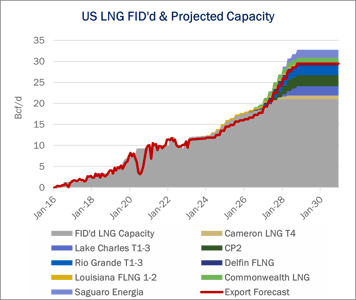 Venture Global awarded EPC duties for Phase 2 to a joint venture between construction firms Zachry Group and KBR. Venture Global has signed offtake agreements with New Fortress Energy (NFE), ExxonMobil (XOM), Petronas, EnBW, Chevron (CVX), China Gas, and Excelerate Energy.
Sempra Energy (SRE) also took FID on Phase 1 of the Port Arthur LNG project near Port Arthur, TX. Phase 1 includes two liquefaction trains with a nameplate export capacity of 13.5 MMtpa (~1.8 Bcf/d). Sempra estimates total capital expenditures for the project at $13 billion. Phase 1 is fully subscribed under contracts with PKN ORLEN SA, RWE, Engie, INEOS Group, and ConocoPhillips (COP).
COP has a unique partnership with Sempra, such that COP acquired a 30% equity stake in the Port Arthur project, along with a sales and purchase agreement (SPA) for 5 MMtpa over 20 years. COP has also assumed the role of gas supply manager for the project. Sempra has contracted Bechtel Energy as the EPC partner and issued a final notice to proceed with construction.
Developers are seeing strong commercial interest for US LNG projects, driven recently by interest from European buyers as fallout from the Russia-Ukraine war. In 2023 Dirty Little Secrets, East Daley lays out a case for 17 Bcf/d of additional gas demand by 2030 as LNG projects like Plaquemines and Port Arthur in this second wave are built and eventually start up in the back half of the decade (see figure).
Other LNG projects previously expected to take FID during 1Q23 include NextDecade's (NEXT) Rio Grande LNG Phase 1 and Energy Transfer's (ET) Lake Charles LNG. Earlier in March, NEXT disclosed it was amending its EPC agreements with Bechtel to make a final decision by June 15, 2023; as such, East Daley now expects Rio Grande to make FID during 3Q23.
We also believe ET is waiting on an additional equity partner to move forward with Lake Charles. India's GAIL recently expressed an interest in acquiring up to 26% equity stake in a US liquefaction facility in an effort to secure future supply. – Oren Pilant Tickers: COP, CVX, NEXT, NFE, SRE, XOM.
Request Access to Energy Data Studio
East Daley Analytics has launched Energy Data Studio, a platform for our industry-leading midstream data and commodity production forecasts. All clients have been given access to the new client portal. If you have not yet logged in, please fill out the form to request a registration email be resent.
Energy Data Studio leverages our G&P data set for insights into midstream assets across every major oil and gas basin in North America. Users can navigate detailed visual dashboards by region, pipeline, or individual asset to understand crude oil, natural gas and NGL supply at the most granular level.
Energy Data Studio is available through data downloads from the visual interface, in Excel files, or as a direct feed delivered into subscribers' workflow via secure file transfer. To learn more about Energy Data Studio, please contact insight@eastdaley.com.
Review the Year Ahead in Dirty Little Secrets
The 2023 Dirty Little Secrets is Now Available! Is Midstream on the cusp of another infrastructure wave? Find out in our new annual report.
Dirty Little Secrets reviews the outlook for Midstream and commodity markets in 2023 and the years ahead. East Daley discusses the outlook for crude oil, natural gas and NGLs and the impacts to midstream assets in our 2023 Dirty Little Secrets annual market report. Click here for a copy of the 2023 Dirty Little Secrets report.
The Daley Note
Subscribe to The Daley Note (TDN) for midstream insights delivered daily to your inbox. The Daley Note covers news, commodity prices, security prices and EDA research likely to affect markets in the short term.