The Daley Note: March 30, 2023
The long-awaited restart of Line 2000 of the El Paso system has brought producers in the Permian Basin only a few weeks of relief from low natural gas prices.
Waha spot prices have been under mounting pressure for most of March, trading over the recent March 20-24 week at an average ~$1.20/MMBtu discount to the Henry Hub benchmark, according to Bloomberg data. Waha gas prices averaged $0.65 over the latest March 25-27 weekend.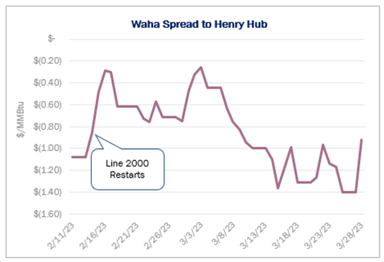 The recent weakness reverses the trend seen in February, when West Texas gas prices gained ground after Kinder Morgan's (KMI) El Paso Natural Gas system restarted commercial service on the repaired Line 2000. The pipeline had been offline for 18 months following an explosion in Arizona in August 2021.
The return of Line 2000 on Feb. 15 added 600 MMcf/d of takeaway to the Southwest region and California border, loosening up space on crowded egress pipelines and allowing Permian gas to swing to higher bidders. The Waha-Henry Hub spread tightened to $0.30/MMBtu in the days following the return of Line 2000 (see figure).
At the recent $1.00-plus discount to Henry Hub, Waha in late March is trading at comparatively weaker prices than in early February, when Line 2000 was still unavailable.
East Daley follows regional prices in our Permian Basin Supply and Demand Forecast as indicators of supply and midstream trends. The widening Waha-Henry Hub spread in March suggests the newly available pipeline capacity from Line 2000 has already been filled with supply growth.
The recent market action could confirm East Daley's view that Permian gas production will quickly grow into pipeline expansions planned in the back half of 2023. With Line 2000 back in service, Permian gas output also can continue to run higher Y-o-Y, contributing to the oversupply we expect for natural gas in 2023.
In our latest Permian Basin Supply and Demand Forecast, we project egress pipelines are currently running at 97% of effective egress capacity out of the basin, and to run at an average 99% of effective capacity through YE23. – James Taylor Tickers: KMI.
Request Access to Energy Data Studio
East Daley Analytics has launched Energy Data Studio, a platform for our industry-leading midstream data and commodity production forecasts. All clients have been given access to the new client portal. If you have not yet logged in, please fill out the form to request a registration email be resent.
Energy Data Studio leverages our G&P data set for insights into midstream assets across every major oil and gas basin in North America. Users can navigate detailed visual dashboards by region, pipeline, or individual asset to understand crude oil, natural gas and NGL supply at the most granular level.
Energy Data Studio is available through data downloads from the visual interface, in Excel files, or as a direct feed delivered into subscribers' workflow via secure file transfer. To learn more about Energy Data Studio, please contact insight@eastdaley.com.
Review the Year Ahead in Dirty Little Secrets
The 2023 Dirty Little Secrets is Now Available! Is Midstream on the cusp of another infrastructure wave? Find out in our new annual report.
Dirty Little Secrets reviews the outlook for Midstream and commodity markets in 2023 and the years ahead. East Daley discusses the outlook for crude oil, natural gas and NGLs and the impacts to midstream assets in our 2023 Dirty Little Secrets annual market report. Click here for a copy of the 2023 Dirty Little Secrets report.
The Daley Note
Subscribe to The Daley Note (TDN) for midstream insights delivered daily to your inbox. The Daley Note covers news, commodity prices, security prices and EDA research likely to affect markets in the short term.