The Daley Note: August 11, 2023
Midstream competition is heating up in the northern Delaware Basin, where Kinetik Holdings (KNTK) is building a new pipeline to extend its reach.
Earlier this year, Kinetik announced plans to construct a rich gas pipeline extension 20 miles north into Lea County, NM. Volumes will be gathered on KNTK's G&P "super-system" in West Texas, comprised of the Raptor and Alpine High systems with a combined 2.0 Bcf/d of processing capacity across five gas processing complexes. According to KNTK, the expansion is backed by a long-term gathering and processing agreement with a large-cap counterparty that includes a significant minimum volume commitment (see map).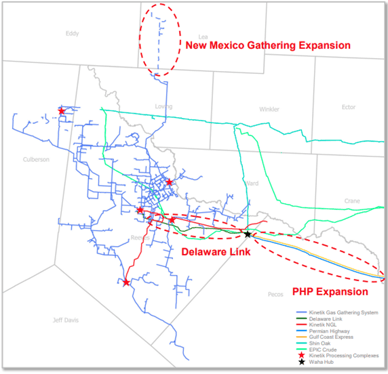 East Daley has tracked Kinetik since the company went public in February 2022, combining the former Altus Midstream with BCP Raptor, the owner of EagleClaw Midstream. We were bullish on the merger, which created the largest pure-play midstream company in the Permian Basin. Since forming the company, Kinetik has added new pipelines to interconnect the Raptor and Alpine High systems.
The addition of front-end amine treating at all KNTK processing facilities has allowed KNTK to expand into New Mexico, where the produced gas in the area is "off-spec" due to high CO2 and H2S content.
Kinetik currently forecasts it will exit 2023 at flows of ~1.6 Bcf/d on its Delaware super-system, which is in line with East Daley's forecast in Energy Data Studio. Assuming the new 20-inch pipe into New Mexico will bring 200-250 MMcf/d onto the system, KNTK is well situated to handle additional volumes through spare processing capacity.
The additional volumes and margin from treating fees will add to Kinetik's bottom line. Based on the KNTK Financial Blueprint, we estimate the company would see a 5% lift to Adj. EBITDA in the Midstream Logistics segment and a 3% increase to total EBITDA from the new project, assuming average volumes of 225 MMcf/d.
As a new G&P entrant into southern Lea County, Kinetik could siphon volumes from established G&P systems in the area. Given its location, the pipeline extension will most likely impact volumes from Targa's (TRGP) Lucid system and EnLink Midstream's (ENLC) Delaware system. Both gather substantial volumes from a diverse group of operators in southern Lea County, NM. - James Taylor
Sign Up for New Webinar:

Crude Oil Market Update: 5 Reasons to be Bullish and 1 Not to Be
August 31, 2023 | 10:30 AM MT | Online Webinar
Join East Daley for a webinar exploring US Crude Oil market fundamentals. We provide reasons why expect a strong and healthy outlook for US crude. We will dissect global and domestic economic headwinds and what these mean for US midstream companies, as well as the effects of production growth in the US and infrastructure projects to support it.

RSVP HERE
Upcoming Webinar:

Organically Grown: The Shifting Landscape For Growth in the Midstream Sector
August 16, 2023 | 10 AM MT | Online Webinar
Understanding how the commodity markets are influencing the business risk of the assets midstream companies own is a core component of the East Daley process and key to understanding how the market will evolve. This webinar will focus on reviewing the Base Business Risk Indicator (formerly the Treadmill) a key East Daley analysis that ties fundamental commodity analysis to the commercial outcomes of assets across the gas, oil, and NGL sectors. We will review where commodity markets are headed and which assets are capturing value, which are losing value, and pontificate on what could change. RSVP HERE
Energy Data Studio
East Daley Analytics has launched Energy Data Studio, a platform for our industry-leading midstream data and commodity production forecasts. All clients have access to the new client portal. If you have not yet logged in, please fill out the form to request a registration email be resent.
Energy Data Studio leverages our G&P data set for insights into midstream assets across every major oil and gas basin in North America. Users can navigate detailed visual dashboards by region, pipeline, or individual asset to understand crude oil, natural gas and NGL supply at the most granular level.
Energy Data Studio is available through data downloads from the visual interface, in Excel files, or as a direct feed delivered into subscribers' workflow via secure file transfer. To learn more about Energy Data Studio, please contact insight@eastdaley.com.
Review the Year Ahead in Dirty Little Secrets
The 2023 Dirty Little Secrets is Now Available! Is Midstream on the cusp of another infrastructure wave? Find out in our new annual report.
Dirty Little Secrets reviews the outlook for Midstream and commodity markets in 2023 and the years ahead. East Daley discusses the outlook for crude oil, natural gas and NGLs and the impacts to midstream assets in our 2023 Dirty Little Secrets annual market report. Click here for a copy of the 2023 Dirty Little Secrets report.
The Daley Note
Subscribe to The Daley Note (TDN) for midstream insights delivered daily to your inbox. The Daley Note covers news, commodity prices, security prices and EDA research likely to affect markets in the short term.