Crude Oil Edge: October 3, 2023
Rigs: The US rig count decreased by 11 W-o-W to bring the total count to 609. Liquids basins overall lost 9 rigs for the September 22 week: 2 rigs in the Anadarko, 5 rigs in the Permian, and 1 in the Powder River and Uinta basins. Within the Permian, the Delaware lost 4 rigs and the Midland lost 1. The Bakken, DJ and Eagle Ford basins held steady.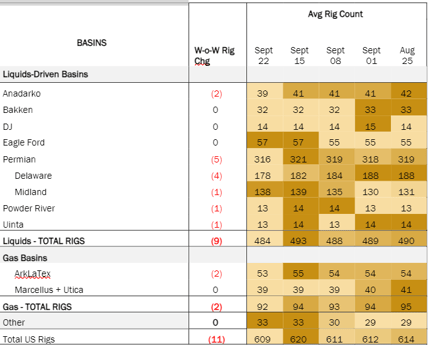 As paradoxical as it seems, rigs counts have been trending downward while production has been steadily increasing. East Daley attributes this trend to upstream M&A activity, which has resulted in many of the combined companies pulling back on rigs while at the same time leveraging higher drilling efficiencies. Ovintiv (OVV) has taken this approach with its acquisition of EnCap assets earlier this year. Vital Energy (VTLE) also recently announced it will drop 2 of the 3 rigs run by two acquired producers when the deal closes in 4Q23.
Infrastructure: Trans Mountain Pipeline was granted approval by the Canada Energy Regulator on its request to alter construction methods and the pipeline route through native land for the Trans Mountain expansion (TMX). The approval enables the pipeline to meet its 1Q24 in-service deadline, Trans Mountain said in an earlier filing. TMX will add 500 Mb/d of egress capacity to Canadian oil producers transporting primarily heavy sour oil from Edmonton, AB to the Westridge Marine Facility export dock in Vancouver, BC.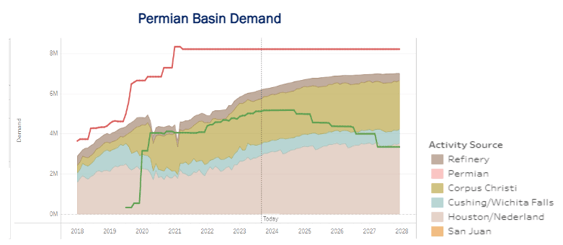 East Daley Analytics' Crude Hub Model shows more Permian Basin production flowing into Houston markets as pipelines to Corpus Christi near capacity. The three main arteries delivering Permian production to Corpus Christi (Epic, Gray Oak, and Cactus II) are at a combined 90% utilization rate as shown in the Crude Hub Model. Permian crude oil deliveries to Houston have been steadily increasing to 78% of pipeline capacity. Since 1Q23 oil volumes have increased from 3,125 MMb/d to 3,241 MMb/d
Stocks at the Cushing hub hover dangerously near the lower operational limit of ~20 MMbbl. The latest EIA data (week ending September 22) reported 21.958 MMbbl. To keep storage levels above 20 MMbbl, flows to the Gulf Coast (Seaway & Marketlink) will have to drop, or the market will need an uptick in supply from basins supplying Cushing. East Daley thinks we will see a little bit of both. Our latest Crude Hub Model expects utilization on Gulf Coast-bound pipelines to dip from 84% to 79% in October, while utilization on Permian-to-Cushing pipelines hits 80%. Plains All American (PAA) holds a dominant share of the capacity from the Permian to Cushing via its Basin and Sunrise pipelines. We expect the Basin pipeline to average 360 Mb/d in October.
Storage: Crude oil commercial stocks are down over the past two weeks, ending at 416.3 MMbbl. Strategic Petroleum Reserves (SPR) stocks are flat at 351 MMbbl.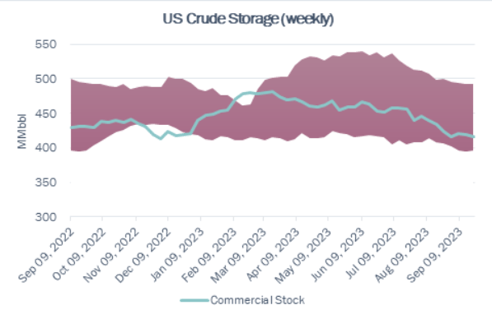 Both commercial and SPR stocks are hovering near historic lows. However, when looking at the commercial 5-year average it is only 4% below levels for this time of year. September 2023 averaged 25.18 days of crude oil supply, the lowest since August 2019, when market coverage averaged 24.92 days of supply.
For the week ending September 29, East Daley expects a modest build in commercial inventories of 2.7 MMbbl. We expect total US stocks of crude oil to increase by 4.5 MMbbl, which includes the final deliveries for the remaining SPR repurchases.
The US pipeline sample, a proxy for change in production, was roughly unchanged in liquids-focused basins (+0.55% W-o-W). We expect US production to hold at 12.9 MMb/d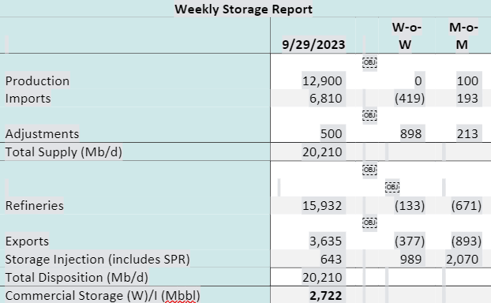 According to US bill of lading data, US crude imports declined by 400 Mb/d W-o-W to 6.8 MMb/d. On the demand side of the equation, EDA expects refinery utilization to fall by 1% W-o-W, coming in at ~15.9 MMb/d. Refinery outage and turnaround data indicated there was more capacity offline, as the US heads toward the peak of maintenance season.
Vessel traffic monitored by EDA along the Gulf Coast had a sharp drop W-o-W. There were only 18 vessels loaded for the September 29 week vs 27 vessels the prior week. EDA expects US exports to be reported at 3.6 MMb/d.