The Daley Note: October 3, 2023
With little fanfare, Targa Resources (TRGP) has started service on a new natural gas pipeline in the Permian Basin that is likely contributing to the company's financial performance.
East Daley caught wind of the stealth pipeline via a filing last week with the Federal Energy Regulatory Commission (FERC). The new 250 MMcf/d pipeline will influence the company outlook in East Daley Analytics' upcoming TRGP Financial Blueprint and 3Q23 Earnings Preview.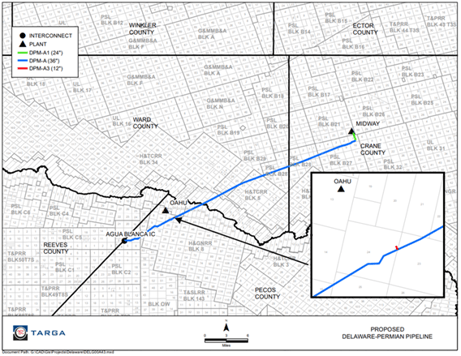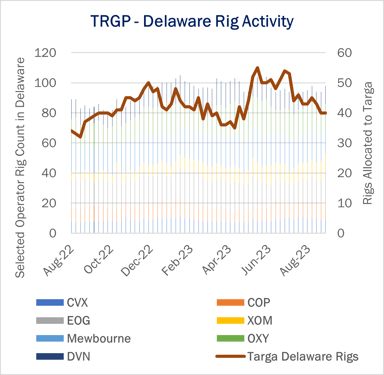 Targa filed a Section 311 request with FERC for Delaware-Permian Pipeline, LLC (Del-Perm), seeking approval to charge the same rates for interstate service as the pipeline receives for intrastate transport in Texas. Del-Perm runs 33 miles from Targa's Oahu and Midway gas processing plants in the Delaware sub-basin to the Waha hub. The project amounts to a $112MM capital investment for TRGP and includes primarily 36-inch pipeline in Crane, Ward, Reeves, and Pecos counties in West Texas (refer to map).
Del-Perm began service on July 13, according to the FERC filing, near the start of 3Q23. Del-Perm connects to "a pipeline that moves gas from the Waha Hub to the Agua Dulce Hub in South Texas." This likely refers to Whistler Pipeline, which was scheduled to start its own expansion in September. TRGP is a significant capacity holder on Whistler, according to EDA contract data.
Despite the project milestone, Targa has said little publicly about its newest pipeline. A review by East Daley turned up no references to Delaware-Permian Pipeline in TRGP investor materials. TRGP does list Delaware-Permian Pipeline as a subsidiary in its latest 10-Q filing, the only reference to the project in the document.
The Railroad Commission of Texas approved intrastate rates for Del-Perm on August 22, according to the FERC filing. The pipeline seeks permission to charge the same rates for interstate service. Del-Perm does not specify which pipelines it seeks to supply, but the Agua Blanca header system owned by Whitewater Midstream connects with the Northern Natural Gas and Natural Gas Pipeline Company of America (NGPL) interstate systems.
Targa placed its Midway plant into service in 2Q23, and the company is likely directing residue gas from Midway to the Agua Blanca interconnect bordering Reeves and Pecos counties.
By debottlenecking processing and takeaway capacity, Targa gives producers behind its Delaware G&P mega-system the opportunity to grow. The largest producers feeding TRGP - Delaware include Chevron (CVX), ConocoPhillips (COP), EOG Resources (EOG), ExxonMobil (XOM), Mewbourn Oil, Occidental (OXY) and Devon (DVN). While these E&P companies also produce into competing G&P systems, EDA estimates 40-50 rigs are consistently connecting into TRGP's Delaware asset (see figure).
With a proposed tariff rate of $0.25/MMBtu, EDA estimates the annual EBITDA contribution of Del-Perm will be about $20-25MM per year. Our updates to the TRGP Financial Blueprint will include this latest project ahead of 3Q23 earnings. – Rob Wilson, CFA Tickers: TRGP.
Sign Up for the Crude Oil Edge
East Daley's

Crude Oil Edge

provides bi-monthly updates on the US Crude Oil Market including supply and demand fundamentals, basin-level views, and analysis of market constraints and infrastructure proposals. We explore sub-basin dynamics and provide market insights on crude oil flows, production growth, and import and export characteristics.

Sign up now for the Crude Oil Edge

.
Energy Data Studio
East Daley Analytics has launched Energy Data Studio, a platform for our industry-leading midstream data and commodity production forecasts. All clients have access to the new client portal. If you have not yet logged in, please fill out the form to request a registration email be resent.
Energy Data Studio leverages our G&P data set for insights into midstream assets across every major oil and gas basin in North America. Users can navigate detailed visual dashboards by region, pipeline, or individual asset to understand crude oil, natural gas and NGL supply at the most granular level.
Energy Data Studio is available through data downloads from the visual interface, in Excel files, or as a direct feed delivered into subscribers' workflow via secure file transfer. To learn more about Energy Data Studio, please contact insight@eastdaley.com.
The Daley Note
Subscribe to The Daley Note (TDN) for midstream insights delivered daily to your inbox. The Daley Note covers news, commodity prices, security prices and EDA research likely to affect markets in the short term.