Natural Gas Weekly: March 23, 2023
Rigs - The long-awaited restart of El Paso system's Line 2000 has brought producers in the Permian Basin only a few weeks of price relief. Waha spot prices have been under mounting pressure in March, trading this week at around a $1.30/MMBtu discount to the Henry Hub benchmark, according to Bloomberg data. The recent weakness reverses the trend seen in February, when West Texas gas prices gained ground after Kinder Morgan's (KMI) El Paso Natural Gas resumed commercial service on the repaired Line 2000.
The return of Line 2000 on Feb. 15 added 600 MMcf/d of takeaway to the Southwest region, loosening up space on crowded pipelines and allowing gas in the Permian to swing to higher bidders. The Waha-Henry Hub spread tightened to $0.30/MMBtu in the days following the return of Line 2000. At the recent $1.30 spread, Waha is trading at comparatively weaker prices than in early February, when Line 2000 was still offline.

The widening Waha-Henry Hub spread in March suggests the newly available pipeline capacity has already filled, confirming East Daley 's view that Permian gas production will quickly grow into pipeline expansions planned in the back half of 2023. In our Permian Supply and Demand Forecast, we project egress pipelines are currently running at 97% of effective egress capacity out of the basin, and to run at an average 99% of effective capacity through YE23.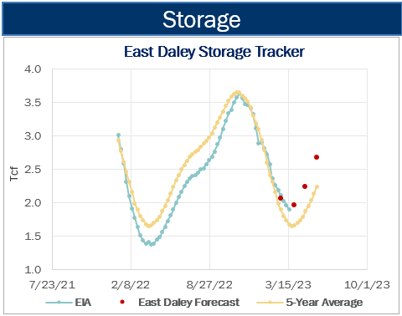 Flows - Northeast pipeline samples recently have moved in lockstep with year-ago numbers, a signal that Appalachian gas production is likely to follow similar trends as 2022.
Early winter volumes in 4Q22 had significantly lagged the prior year, but 1Q23 samples have converged with volumes in 2022 near 33 Bcf/d. Northeast producer guidance is uniformly for 'maintenance mode', leaving some room for modest single-digit variance from public producers in our Northeast Supply and Demand Forecast.
Storage - EIA reported a 72 Bcf storage withdrawal for the March 17 week, putting working gas inventories at 1,900 Bcf. In our Macro Supply and Demand Forecast, we estimate storage inventories end March at 1,965 Bcf. US storage is 351 Bcf above the 5-year average after the latest EIA report.
Natural Gas Weekly
East Daley Analytics' Natural Gas Weekly provides a weekly update to our monthly Macro Supply and Demand Forecast. The update covers rigs, flows, production, prices and capacity constraints that materially change our view on supply and demand. This update highlights what investors and traders need to monitor in natural gas to ensure they are on the right side of the market. Subscribe to the Natural Gas Weekly.