Natural Gas Watch: September 9, 2022
The Permian is the basin most responsible for our bullish gas supply outlook for 2H22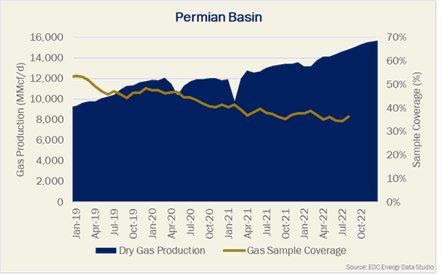 and into 2023. Permian gas samples rose nearly 8% (372 MMcf/d) M-o-M in August. Is this growth real or a head-fake? Daily pipe scrapes have become a less reliable indicator of Permian dry gas production over time (see graph below), as a higher share of supply growth shows up on new TX intrastate pipelines. Even so, there is reason to believe the recent uptick in the gas sample is real.
Interstate pipelines El Paso (+246 MMcf/d) and NGPL (+78 MMcf/d) drove the uptick in gas sample volumes in August. Widening gas basis between the Permian and South Texas/SoCal suggest pipelines on those routes are filling up, leaving spillover growth to be directed north to the Midcon and Chicago markets. This means growth is showing up on interstate pipes, implying the gas sample uptick is real. Shippers are likely to shift volumes to NGPL only if gas prices in the Midcon or Chicago markets trade at a premium to Houston Ship Channel. This hasn't been the case, so we believe volume growth here has come from production growth.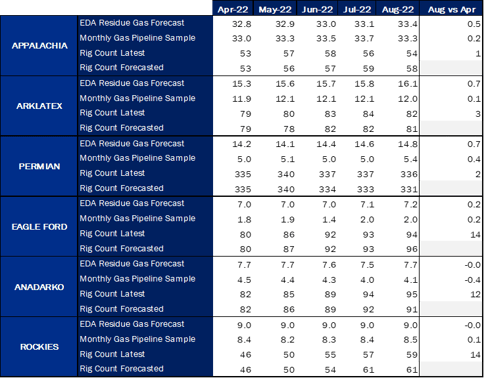 Volumes have increased the most from Delaware gas plants on the Kinetik (KNTK) and Targa - Lucid systems.
KNTK is likely seeing upside from the recent integration of the Alpine High and EagleClaw assets. East Daley reported that the 'super-connector' pipeline planned by KNTK between the two G&P systems went live in June (see our Aug. 30 The Daley Note). Spillover supply from producers on the former Eagle Claw system is likely being processed by the Alpine High gas plants.
TRGP's recently acquired Lucid system is heavily weighted toward EOG activity. EOG rigs have increased from 4 to 10 on the Lucid system since April. We forecast EOG to grow production by 25% from '21 to '22, supportive of our forecast for 1.8 Bcf/d Permian growth in 2022.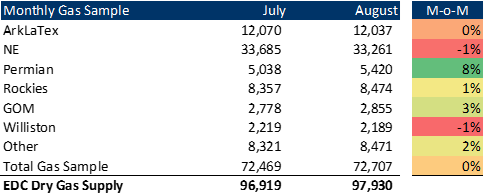 We have seen meaningful rig additions in the Lower 48 over the last 4 months. There have been 14 rig adds in the Eagle Ford, 14 in the Rockies, and 12 more rigs in the Anadarko since April (see table below). Increased rig activity supports East Daley's bullish view on natural gas supply. We forecast supply to grow 4.5 Bcf/d Y-o-Y. See Tuesday's Aug. 30 The Daley Note for more insight.
Dry production for the 8/25 – 8/31 week averaged 97.5 Bcf/d according to flows. We estimate August production to average 97.9 Bcf/d in our Macro Supply and Demand Forecast.
The EIA reports weekly storage +58 Bcf vs +60 Bcf consensus estimates. Inventories for
the week ended Aug. 26 total 2,640 Bcf, down 338 Bcf vs the 5-year avg. Storage is slightly higher (+53 Bcf) than our forecast; we estimate 2,587 Bcf by end-August.
For a deeper dive into our September Macro Supply and Demand Forecast and basin-level reports including: Permian, Northeast, Rockies region, Bakken, and ArkLaTex contact Zack Van Everen or fill out the form to request a copy.
Subscribe to Natural Gas Watch, "cut through the noise, take action," highlights East Daley's high-level perspective on weekly natural gas market changes.