The Daley Note: November 03, 2022
Plains All American (PAA) and Enbridge (ENB) have jointly acquired Western Midstream's (WES) 15% interest in the Cactus II crude oil pipeline for $265 million. While Cactus II has a thorny history, the transaction positions PAA and ENB to ride a recovery in Permian Basin crude oil production, according to our Crude Hub Model.
The companies announced the transaction prior to Plains' 3Q22 earnings call. Cactus II transports crude oil from the Permian to refiners and terminals near Corpus Christi, including ENB's Ingleside Energy Center. The deal values the pipeline at $1.77 billion, implying an EBITDA multiple of 14x based on the trailing 12 months of financials filed with the Federal Energy Regulatory Commission. PAA now controls 70% of Cactus II, and ENB holds the remaining 30%.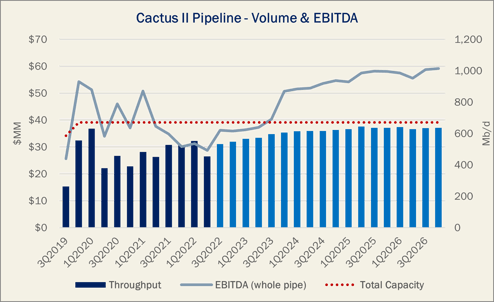 Cactus II has had a rough go since it began operations in late 2019. Shipments and cash flows were initially strong in 4Q19 and 1Q20, but pandemic-related supply issues, including deficiency shipments from its anchor shipper, Trafigura, have plagued the pipeline. The resulting glut of Permian pipeline egress forced Cactus II to cut its walk-up tariff and to heavily discount its incentive rates, which drove down the pipeline's average rate from $1.12/bbl in 1Q20 to $0.75/bbl in 2Q22.
Despite these difficulties, we have a positive outlook on Cactus II and expect flows will continue to improve. Data from East Daley's Crude Hub Model projects Cactus II will transport ~547 Mb/d in 4Q22 and more than 635 Mb/d by YE2025. Additionally, we expect Cactus II to see its average tariff rate improve due to tightening Gulf Coast egress capacity, widening basis differentials, annual tariff rate increases, and increasing walk-up volumes. If we value the transaction based on 2023 EBTIDA projections, we calculate a 10.7x multiple, which continues to improve to a sub-8x multiple as basin takeaway tightens.
While the price may seem steep, we see long-term value in the acquisition for PAA and ENB. The transaction strengthens their Permian positioning and secures additional supply for ENB's Ingleside Energy Center (previously owned by Moda Midstream). – AJ O'Donnell Tickers: ENB, PAA, WES.
Dirty Little Secrets 2023 – Is Another Infrastructure Wave Ahead?
Is Midstream on the cusp of another infrastructure wave? East Daley will explore the potential in our annual Dirty Little Secrets market report in early December. Click here to receive updates on the 2023 Dirty Little Secrets report.

The Russia-Ukraine conflict has pushed commodity prices higher and spurred greater global demand for US energy products. Meanwhile, more disciplined growth from the upstream has infrastructure finally filling up across commodities. Will exports power the next infrastructure boom?
Dirty Little Secrets is East Daley's annual report on energy markets and the road ahead for Midstream. We share our macroeconomic outlooks for US oil, natural gas and NGLs, highlight key infrastructure opportunities, update on the state of the Energy Transition, and share our view on Midstream's future role in energy.
For updates on the 2023 Dirty Little Secrets report, please click here.

Join East Daley for a Spotlight Happy Hour
East Daley has published a complete group of 3Q22 Earnings Previews and Blueprint Financial Models for midstream companies within our coverage. Quarterly Earnings Previews and Blueprints are now available for Antero Midstream (AM), Crestwood Equity (CEQP), Enbridge (ENB), EnLink Midstream (ENLC), Enterprise Products (EPD), Energy Transfer (ET), Equitrans Midstream (ETRN), Kinder Morgan (KMI), Kinetik Holdings (KNTK), Magellan Midstream (MMP), MPLX (MPLX), ONEOK (OKE), Plains All American (PAA), Summit Midstream (SMLP), Targa Resources (TRGP), TC Pipelines (TRP), Western Midstream (WES) and Williams (WMB).
Our Earnings Previews include quarterly earnings forecasts compared to Street consensus, a detailed list of the top assets that will impact the quarter, analysis of near- and long-term risks to future earnings, along with forecasts for Adj. EBITDA by segments. Please log in to access these reports.
The Daley Note
Subscribe to The Daley Note (TDN) for midstream insights delivered daily to your inbox. The Daley Note covers news, commodity prices, security prices and EDA research likely to affect markets in the short term.