The Daley Note: November 07, 2022
California utility PG&E is pulling back on its commitments to the Ruby Pipeline, marking a blow for the bankrupt pipeline.

On Oct. 31, PG&E filed two amendments to reduce volumes shipped through its Ruby Pipeline contracts. The move stems from the utility's original contracts struck in 2011, which give PG&E the right to reduce its firm transport (FT) commitments by 20% every year on Ruby starting Nov. 1, 2022. The two contracts total 375 MMcf/d, reducing FT volumes by 75 MMcf/d. Rates on these contracts are $0.68/Mcf, resulting in an $18.6 million reduction in annual revenue.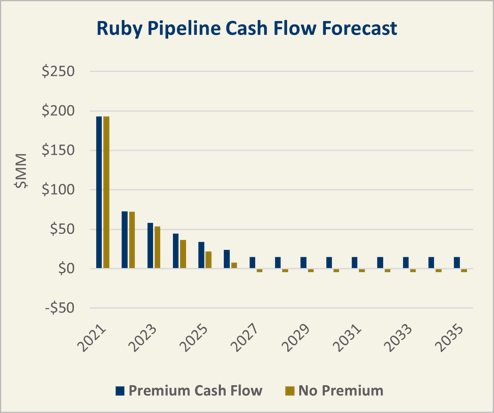 Owned by Kinder Morgan (KMI) and Pembina Pipeline (PBA), Ruby Pipeline transports natural gas from the Rockies basins to the Pacific Northwest and California. The pipeline has seen its West Coast market share erode over time due to growth in Western Canada supply. East Daley had modeled for clients the PG&E volumes falling out of Ruby's cash flow, as well as a scenario under which PG&E retained the FT capacity, in an Oct. 18, 2021 Midstream Navigator, "Bankruptcy Battle Looms for Ruby Pipeline." CLICK HERE to view this Navigator. Ruby Pipeline filed for Chapter 11 protection on March 31, 2022, five months after we released this Navigator.
We have yet to see PG&E recontact for these volumes. But as spreads between Opal and Malin have widened with this event, marketers have picked up 115 MMcf/d of short-term contacts on Ruby ranging from $0.20-0.39/Mcf. One small, longer-term contract was also signed with Nevada Gold at a $0.75/Mcf rate through 2027.

Although still a hit to Ruby overall, if short-term contracts continue at these elevated rates, revenue would fall in line with our premium revenue scenario shown in the Figure from our Midstream Navigator. Future asset cash flow would remain positive, though still far short of the ~$193 million earned in 2021 before other anchor contracts began rolling off. – Zack Van Everen Tickers: KMI, PBA.
Dirty Little Secrets 2023 – Is Another Infrastructure Wave Ahead?
Is Midstream on the cusp of another infrastructure wave? East Daley will explore the potential in our annual Dirty Little Secrets market report in early December. Click here to receive updates on the 2023 Dirty Little Secrets report.

The Russia-Ukraine conflict has pushed commodity prices higher and spurred greater global demand for US energy products. Meanwhile, more disciplined growth from the upstream has infrastructure finally filling up across commodities. Will exports power the next infrastructure boom?
Dirty Little Secrets is East Daley's annual report on energy markets and the road ahead for Midstream. We share our macroeconomic outlooks for US oil, natural gas and NGLs, highlight key infrastructure opportunities, update on the state of the Energy Transition, and share our view on Midstream's future role in energy.
For updates on the 2023 Dirty Little Secrets report, please click here.

East Daley, RBN Spotlight Targa in New Webinar
East Daley has published a complete group of 3Q22 Earnings Previews and Blueprint Financial Models for midstream companies within our coverage. Quarterly Earnings Previews and Blueprints are now available for Antero Midstream (AM), Crestwood Equity (CEQP), Enbridge (ENB), EnLink Midstream (ENLC), Enterprise Products (EPD), Energy Transfer (ET), Equitrans Midstream (ETRN), Kinder Morgan (KMI), Kinetik Holdings (KNTK), Magellan Midstream (MMP), MPLX (MPLX), ONEOK (OKE), Plains All American (PAA), Summit Midstream (SMLP), Targa Resources (TRGP), TC Pipelines (TRP), Western Midstream (WES) and Williams (WMB).
Our Earnings Previews include quarterly earnings forecasts compared to Street consensus, a detailed list of the top assets that will impact the quarter, analysis of near- and long-term risks to future earnings, along with forecasts for Adj. EBITDA by segments. Please log in to access these reports.
The Daley Note
Subscribe to The Daley Note (TDN) for midstream insights delivered daily to your inbox. The Daley Note covers news, commodity prices, security prices and EDA research likely to affect markets in the short term.