The Daley Note: November 08, 2022
Summit Midstream (SMLP) is expanding its reach in the Denver-Julesburg Basin, announcing two deals to acquire the Outrigger II and Sterling G&P assets for $305 million in cash. We are tracking 1 rig between the two DJ systems in our Midstream Activity Tracker, and we model modest but steady production growth ahead, led by Outrigger II.
SMLP announced the deals with subsidiaries of Outrigger Energy II and Sterling Investment Holdings on Oct. 17. The assets include natural gas G&P systems, a crude oil gathering system, and a freshwater delivery system in Weld, Morgan, and Logan counties, CO and Cheyenne County, NE. The G&P assets are near SMLP's own Hereford G&P system in Weld County, and SMLP plans to interconnect the three systems to expand its coverage further south in the DJ. The transaction will triple SMLP's gas processing to a combined capacity of 185 MMcf/d from five gas plants: Jackson Lake, Yenter, Centennial, Makena, and Hereford.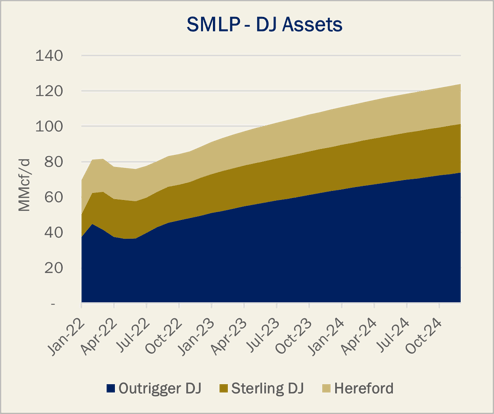 The latest acquisitions signal that SMLP plans to prioritize the DJ Basin as the midstream company realigns its diverse portfolio. SMLP this year has sold off its Bison gathering system in North Dakota and its Lane G&P system in the Delaware Basin.
Currently, East Daley is tracking 1 rig on the Outrigger II - DJ system in our Midstream Activity Tracker. Drilling activity reemerged in December 2021, and rig counts were as high as 2 rigs in March-April 2022, likely in response to higher commodity prices.
In our asset-level Blueprint Financial Models, we currently forecast gas volumes processed by Outrigger II to average 42 MMcf/d in 2022 and 57 MMcf/d in 2023. We are not tracking any rigs currently on Sterling; we model system volumes to average 20 MMcf/d in 2022 and 24 MMcf/d in 2023 (see figure).
The acquisitions will enable Summit to reach more producers in the DJ and improve its midstream services. SMLP cited 75 new wells planned by Outrigger II and Sterling customers in 2023.

The latest activity follow a general recovery in the DJ, where basin rigs have increased to around 18 compared to a count of 11 rigs a year ago. Midstream operators like Western Midstream (WES) and private systems like Cureton and Rimrock all have seen increased rig activity, according to our Midstream Activity Tracker. While we don't anticipate additional rigs in our forecast, the recent activity should keep supply growing on SMLP's new assets. – Maria Paz Urdaneta Tickers: SMLP, WES.
Dirty Little Secrets 2023 – Is Another Infrastructure Wave Ahead?
Is Midstream on the cusp of another infrastructure wave? East Daley will explore the potential in our annual Dirty Little Secrets market report in early December. Click here to receive updates on the 2023 Dirty Little Secrets report.

The Russia-Ukraine conflict has pushed commodity prices higher and spurred greater global demand for US energy products. Meanwhile, more disciplined growth from the upstream has infrastructure finally filling up across commodities. Will exports power the next infrastructure boom?
Dirty Little Secrets is East Daley's annual report on energy markets and the road ahead for Midstream. We share our macroeconomic outlooks for US oil, natural gas and NGLs, highlight key infrastructure opportunities, update on the state of the Energy Transition, and share our view on Midstream's future role in energy.
For updates on the 2023 Dirty Little Secrets report, please click here.

East Daley, RBN Spotlight Targa in New Webinar
East Daley has published a complete group of 3Q22 Earnings Previews and Blueprint Financial Models for midstream companies within our coverage. Quarterly Earnings Previews and Blueprints are now available for Antero Midstream (AM), Crestwood Equity (CEQP), Enbridge (ENB), EnLink Midstream (ENLC), Enterprise Products (EPD), Energy Transfer (ET), Equitrans Midstream (ETRN), Kinder Morgan (KMI), Kinetik Holdings (KNTK), Magellan Midstream (MMP), MPLX (MPLX), ONEOK (OKE), Plains All American (PAA), Summit Midstream (SMLP), Targa Resources (TRGP), TC Pipelines (TRP), Western Midstream (WES) and Williams (WMB).
Our Earnings Previews include quarterly earnings forecasts compared to Street consensus, a detailed list of the top assets that will impact the quarter, analysis of near- and long-term risks to future earnings, along with forecasts for Adj. EBITDA by segments. Please log in to access these reports.
The Daley Note
Subscribe to The Daley Note (TDN) for midstream insights delivered daily to your inbox. The Daley Note covers news, commodity prices, security prices and EDA research likely to affect markets in the short term.