The Daley Note: February 2, 2023
West Coast natural gas prices could be nearing a relief point, as soon as federal regulators approve a remedial work plan filed by Kinder Morgan (KMI) for repairs to the El Paso Natural Gas pipeline system.
Gas prices on the West Coast have soared this winter, topping $50/MMBtu at the Southern California (SoCal) border in early December. West Coast gas prices have remained stubbornly high even as benchmark Henry Hub futures have fallen below $3. Gas sold into California at Malin, OR and the SoCal border were trading for over $10 this week, according to Bloomberg data.
The relative strength of West Coast prices is due to a combination of cold weather, below-normal regional storage inventories, and limits on pipeline supplies to the region. El Paso's Line 2000, which runs from the Permian Basin to New Mexico and Arizona, has been out of service for 17 months following a pipeline rupture on August 15, 2021.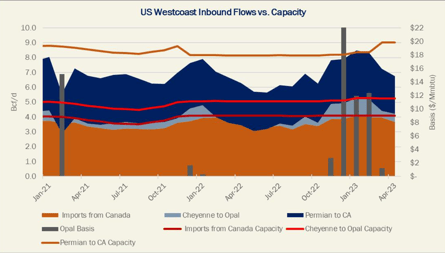 The Line 2000 outage has reduced capacity between the Permian and Arizona/California by 620 MMcf/d, which turned out to be a critical amount of capacity given high demand in the region this winter. With the key pipeline route down, Permian shippers haven't been able to fully capitalize on West Coast price volatility.
But relief is on the horizon. In a shipper notice posted on Jan. 25, El Paso said it has completed construction work to repair Line 2000 and submitted a request to the US Pipeline and Hazardous Materials Safety Administration (PHMSA) to lift pressure restrictions on the line.
Approval from PHMSA could come in a matter of weeks. East Daley expects El Paso to be fully back online within the next month, increasing capacity to California by 620 MMcf/d.
The return of Line 2000 should begin to ease stress evident in regional prices. The Opal hub has averaged a $17/MMBtu premium to the Henry Hub for the past two months as demand in California, Oregon and Washington pulls as much supply westward as possible. East Daley estimates all pipeline routes flowing to the West Coast have been full since late November, including imports from Canada on the Gas Transmission Northwest (GTN) and Northwest Pipeline systems.
Once El Paso's Line 2000 is back in service, the extra 600 MMcf/d of capacity will relieve pressure at price points like SoCal, Opal and Sumas. Even if PHMSA takes more than one month to approve the request, demand is likely to taper off starting in March, which could also provide relief. – Ryan Smith Tickers: KMI.
Stay Ahead of the Market with Natural Gas Weekly
East Daley Analytics' Natural Gas Weekly provides a weekly update to our monthly Macro Supply and Demand Forecast. The update covers rigs, flows, production, prices and capacity constraints that materially change our view on supply and demand. This update highlights what investors and traders need to monitor in natural gas to ensure they are on the right side of the market. Contact us for more information on Natural Gas Weekly.
The Daley Note
Subscribe to The Daley Note (TDN) for midstream insights delivered daily to your inbox. The Daley Note covers news, commodity prices, security prices and EDA research likely to affect markets in the short term.