The Daley Note: December 21, 2022
Tallgrass Energy will purchase the Ruby Pipeline out of bankruptcy for $282.5 million. The price for Ruby is a fair one, according to an earlier asset valuation by East Daley.
Tallgrass confirmed it acquired Ruby Pipeline following the close of a bankruptcy auction on December 16. According to court filings, Tallgrass submitted a winning bid of $282.5 million, beating out a rival bid of $276 million by EP Ruby LLC, a subsidiary of Kinder Morgan (KMI).
2023 Dirty Little Secrets is Now Available! East Daley on December 12 released our Dirty Little Secrets report reviewing key market trends that will shape the US energy sector in the years ahead. Click here for a copy of the 2023 Dirty Little Secrets report.

Ruby Pipeline runs 680 miles from the Opal hub in Wyoming to Malin, OR, and supplies Nevada, Oregon and northern California natural gas markets. The pipeline began service in 2010. At the time, growing gas production was trapped within the western Rockies, creating bottlenecks that led to heavy discounting on basin prices.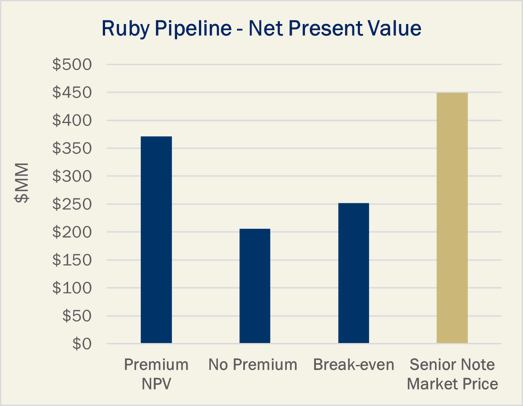 Market trends since then have largely moved against Ruby. The pipeline has seen growing supply competition from Western Canada via expansions of TC Energy's (TRP) Gas Transmission Northwest (GTN) and Nova Gas Transmission Line (NGTL). As a result, legacy contracts rolling off Ruby combined with lower utilization led to a bankruptcy filing on March 31, 2022.
Before Ruby filed for Chapter 11, East Daley had predicted the bankruptcy event in a Midstream Navigator published in October 2021. At the time, we ran a net present value (NPV) calculation for the pipeline based on future contracts and flows. We estimated an NPV of $370 million in a Premium case and $205 million in a Base case (see Figure). In the Premium scenario, we assumed Ruby re-contracts all expiring capacity with California utility PG&E at 30¢/Dth. This rate is above where we assessed the market at the time, based on short-term contract prices of ~16¢/Dth.
Tallgrass is correct to say that Ruby will provide cash flow immediately, as PG&E has legacy contracts well above market rates through 2027. However, PG&E can reduce its contracted volumes by 20% annually until these contracts expire. PG&E recently elected to cut firm transport under contract, the utility's first opportunity to pull back on commitments to Ruby.
The sales price of $282.5 million puts the winning bid by Tallgrass near the midpoint of the Base and Premium cases presented in our Midstream Navigator. East Daley views Ruby Pipeline as an essential asset that will continue to see contracting. Based on current contract prices, the pipeline's cash flow will likely break even or be slightly positive once PG&E's contracts roll off. – Zack Van Everen Tickers: KMI, TRP.
Dirty Little Secrets 2023 is Now Available!
The 2023 Dirty Little Secrets report is now available! Is Midstream on the cusp of another infrastructure wave? Find out in our new annual report.
Sign up to receive 2023 Dirty Little Secrets
The Russia-Ukraine conflict has pushed commodity prices higher and spurred greater global demand for US energy products. Meanwhile, more disciplined growth from the upstream has infrastructure finally filling up across commodities. Will exports power the next infrastructure boom?
Dirty Little Secrets is East Daley's annual report on energy markets and the road ahead for Midstream. We share our macroeconomic outlooks for US oil, natural gas and NGLs, highlight key infrastructure opportunities, update on the state of the Energy Transition, and share our view on Midstream's future role in energy.
To receive the 2023 Dirty Little Secrets report, please click here.

3Q22 Earnings Previews and Earnings Reviews Now Available
East Daley has published a complete group of 3Q22 Earnings Previews and Blueprint Financial Models for midstream companies within our coverage. We also are publishing 3Q22 Earnings Reviews as companies report comparing our forecasts vs results. Quarterly Earnings Previews and Blueprints are now available for Antero Midstream (AM), Crestwood Equity (CEQP), Enbridge (ENB), EnLink Midstream (ENLC), Enterprise Products (EPD), Energy Transfer (ET), Equitrans Midstream (ETRN), Kinder Morgan (KMI), Kinetik Holdings (KNTK), Magellan Midstream (MMP), MPLX (MPLX), ONEOK (OKE), Plains All American (PAA), Summit Midstream (SMLP), Targa Resources (TRGP), TC Pipelines (TRP), Western Midstream (WES) and Williams (WMB).
Our Earnings Previews include quarterly earnings forecasts compared to Street consensus, a detailed list of the top assets that will impact the quarter, analysis of near- and long-term risks to future earnings, along with forecasts for Adj. EBITDA by segments. Please log in to access these reports.
The Daley Note
Subscribe to The Daley Note (TDN) for midstream insights delivered daily to your inbox. The Daley Note covers news, commodity prices, security prices and EDA research likely to affect markets in the short term.