East Daley's latest September forecasts see more crude oil and natural gas supply growth ahead. Get updated basin forecasts AVAILABLE NOW through East Daley's Energy Data Studio.

We expect Lower 48 crude production to grow 150-250 Mb/d more from 2023-2026 compared to last month's model runs. Natural gas production is up 500-900 MMcf/d from 2023-2026 in our new September outlook. Much of the increased activity in our latest September update is from the Permian and Bakken, where our forecasts have continued to improve M-o-M.

Dive deeper into our latest crude oil and natural gas supply forecasts through the Basin Production Outlook on East Daley's Energy Data Studio, available for 15 North American basins.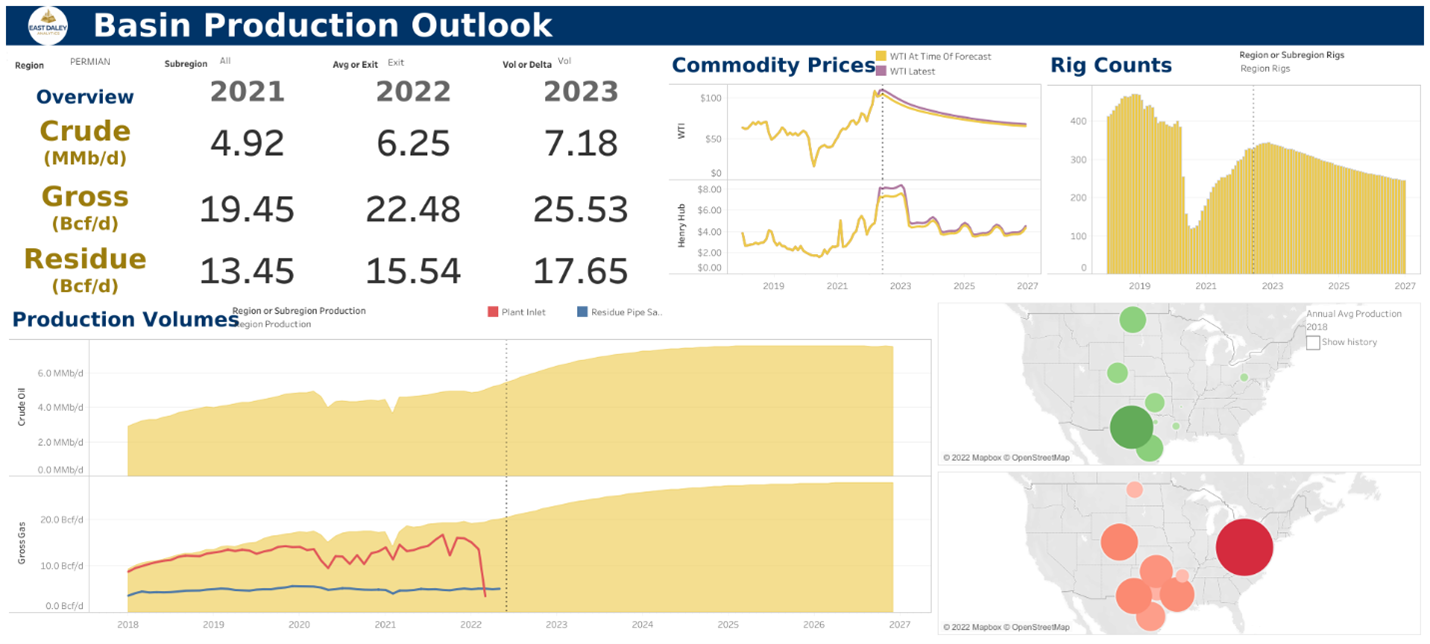 East Daley specializes in developing accurate oil and gas supply forecasts using the latest production data and benchmarks. Our Production Scenario Tools (PSTs) combine E&P producer guidance, rig metrics, and the latest commodity strip pricing with our patented midstream constraint analysis to create the industry's most advanced supply forecasts.

The EDA team takes a macro view on North American gas fundamentals to identify regional constraints, resulting in a forecast balanced by natural gas supply, demand, and working gas storage volumes.
Our robust production forecasting tools are available now through East Daley's Energy Data Studio. The interactive dashboard allows users to easily navigate monthly updates to our PSTs, providing maximum flexibility for working with data. We currently offer data downloads from the visual interface, in Excel files, or as direct data delivered into your workflow via secure file transfer.

To learn more about our Energy Data Studio or for an updated outlook on one of the 15 North American basins, please contact aodonnell@eastdaley.com for a demo and trial.
The Daley Note
Subscribe to The Daley Note (TDN), "midstream insights delivered daily," covers news, commodity prices, security prices, and EDA research likely to affect markets in the short term.