Natural Gas Watch: September 22, 2022
Price spreads from Waha to the Houston Ship Channel and SoCal border widened this week to $1.65 and $1.90/MMBtu respectively, indicating available pipe capacity leaving the Permian is likely running full. We expect storage near Waha to fill as the steep discounting for spot gas within the basin creates arbitrage opportunities to inject ahead of the 2022-23 winter.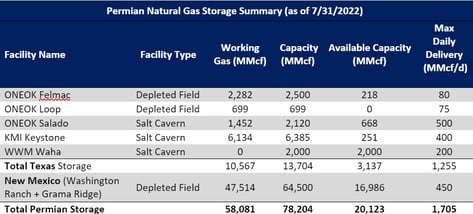 There are 7 major storage facilities near Waha that can absorb the excess Permian supply. These storage fields have a total working capacity of 78.2 Bcf and a combined injection rate of 1.7 Bcf/d (see table below). However, most of the capacity (64.5 Bcf) is in two depleted fields in New Mexico with limited injection/withdrawal capability (450 MMcf/d combined). The 5 remaining facilities in West TX offer 1,255 MMcf/d of injection/withdrawal capacity and an available capacity of ~3.1 Bcf.
One significant change compared to Permian constraints in 2019-20 is the addition of WhiteWater Midstream's Waha Storage field. Whitewater said in its open season that facility service (2.0 Bcf of working gas capacity and 200 MMcf/d injection rate) would become available around July 2022, just in time to help absorb supply swings causing recent Waha price weakness.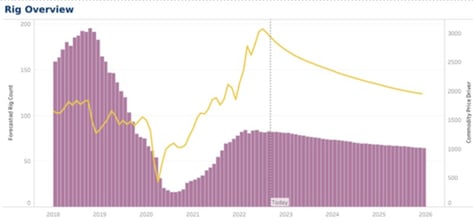 Anadarko rig counts have averaged 96 so far in September, the most rigs in the basin since August 2019 and +27 rigs vs a year ago (see figure). The Anadarko samples this month are +437 MMcf/d (+11%) Y-o-Y, averaging 4,369 MMcf/d in September. The samples show Anadarko gas volumes on track to increase ~6% M-o-M. Operators Continental Resources (CLR), Citizen Energy III, Mewbourne Oil, and GBK Corp. are leading the rebound. East Daley expects basin gas production to average 8.5 Bcf/d in 2022 and 9.3 Bcf/d in 2023 at current rig levels.
Dry production for the 9/15 – 9/21 week averaged 98.8 Bcf/d. We estimate September production to average 99.2 Bcf/d in our Macro Supply and Demand Forecast.
We forecast storage to end September at 3,021 Bcf, implying 250 Bcf of injections during the month. By October 2022, East Daley forecasts storage fills to 3,447 Bcf, just 189 Bcf short of the 5-year average.
Subscribe to Natural Gas Watch, "cut through the noise, take action," which highlights East Daley's high-level perspective on weekly natural gas market changes.