The Daley Note: December 5, 2022
NGL fractionation constraints have no end in sight, even with nearly 700 Mb/d of new frac capacity coming online over the next 18 months. The new additions are no match for NGL supply growth into the Mont Belvieu-Texas Gulf Coast region, which East Daley's NGL Network Model estimates to grow by 10% Y-o-Y in 2023, averaging 4.7 MMb/d.

Phillips 66 (PSX) will be completing its 150 Mb/d Sweeny Frac 4 this quarter (4Q22), ONEOK (OKE) is targeting 2Q23 for its 125 Mb/d MB-5 Frac, Enterprise (EPD) and Energy Transfer (ET) aim to add 150 Mb/d fracs each in 3Q23, and Targa (TRGP) expects an in-service date of 2Q24 for its latest 120 Mb/d fractionator.

With OKE's 210 Mb/d Medford, OK fractionator down, we expect even more Y-grade volume to flow to Mont Belvieu. OKE has yet to provide a timeline for restoring service to the Medford frac, and it looks increasingly likely the plant may be shuttered for good. Without a restart of the Medford facility, East Daley expects fractionation capacity in the Texas Gulf Coast to be incredibly tight, and even breach 100% at times.
Get a complete view of NGL markets in The NGL Roundup, now available FREE from East Daley Analytics. The NGL Roundup reviews monthly NGL data from EIA and East Daley's own basin-level supply forecasts of Y-grade and NGL purity products. We provide a FREE snapshot of data from our NGL Network Model and Purity Product Dataset. Sign up to receive the NGL Roundup.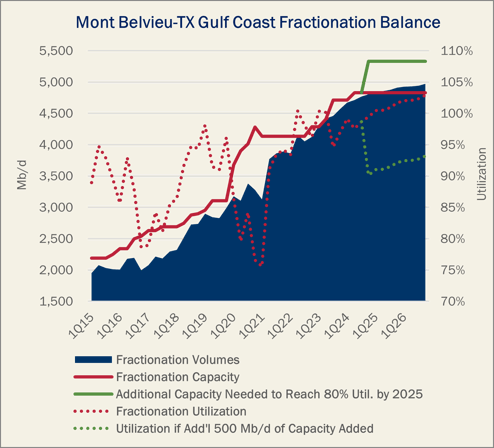 In order to push frac utilization levels down to 90% by 2025, we model an additional 500 Mb/d of fractionation capacity will need to be built. Unfortunately, the risk of a recession is dampening global petchem utilization rates, and with no new Gulf Coast petrochemical facilities on the horizon, it will be increasingly difficult to find counterparties to help underwrite new fractionators.
Nevertheless, the NGL supply pulled from rich gas will still need to go somewhere. Companies may turn to flaring, but new ESG standards could limit this option, at least for public companies. Ethane rejection will not be very helpful either, with Permian natural gas egress looking tight until the Matterhorn pipeline comes online in 3Q24. Thus, the fractionation constraints may lead to massive storage builds, which could have negative implications for NGL purity product prices.
East Daley will explore the outlook for NGLs and other energy commodities in our upcoming 2023 Dirty Little Secrets report later this month. Dirty Little Secrets is our annual market report summarizing trends we expect to shape the US midstream energy sector in the year ahead. To learn more, please register for the Dirty Little Secrets annual report, to be released Dec. 12, 2022 and the corresponding webinar on Dec. 14, 2022 at 10:30 AM MST. — Ajay Bakshani, CFA Tickers: EPD, ET, OKE, PSX, TRGP.
Dirty Little Secrets 2023 – Is Another Infrastructure Wave Ahead?
Is Midstream on the cusp of another infrastructure wave? East Daley will explore the potential in our annual Dirty Little Secrets market report on December 14 at 12:30 EST.
Sign up to view the 2023 Dirty Little Secrets Webinar
The Russia-Ukraine conflict has pushed commodity prices higher and spurred greater global demand for US energy products. Meanwhile, more disciplined growth from the upstream has infrastructure finally filling up across commodities. Will exports power the next infrastructure boom?
Dirty Little Secrets is East Daley's annual report on energy markets and the road ahead for Midstream. We share our macroeconomic outlooks for US oil, natural gas and NGLs, highlight key infrastructure opportunities, update on the state of the Energy Transition, and share our view on Midstream's future role in energy.
For updates on the 2023 Dirty Little Secrets report, please click here.

3Q22 Earnings Previews and Earnings Reviews Now Available
East Daley has published a complete group of 3Q22 Earnings Previews and Blueprint Financial Models for midstream companies within our coverage. We also are publishing 3Q22 Earnings Reviews as companies report comparing our forecasts vs results. Quarterly Earnings Previews and Blueprints are now available for Antero Midstream (AM), Crestwood Equity (CEQP), Enbridge (ENB), EnLink Midstream (ENLC), Enterprise Products (EPD), Energy Transfer (ET), Equitrans Midstream (ETRN), Kinder Morgan (KMI), Kinetik Holdings (KNTK), Magellan Midstream (MMP), MPLX (MPLX), ONEOK (OKE), Plains All American (PAA), Summit Midstream (SMLP), Targa Resources (TRGP), TC Pipelines (TRP), Western Midstream (WES) and Williams (WMB).
Our Earnings Previews include quarterly earnings forecasts compared to Street consensus, a detailed list of the top assets that will impact the quarter, analysis of near- and long-term risks to future earnings, along with forecasts for Adj. EBITDA by segments. Please log in to access these reports.
The Daley Note
Subscribe to The Daley Note (TDN) for midstream insights delivered daily to your inbox. The Daley Note covers news, commodity prices, security prices and EDA research likely to affect markets in the short term.