The Daley Note: April 20, 2023
A modest oil pipeline could capture upside from development in the hottest US oil play.
Trophy Pipeline is an 8-mile crude oil gathering line in Lea County, NM that recently added 3 miles into Winkler County, TX. Owned and operated by Ameredev, the asset in the northern Delaware Basin saw average throughput of 16.5 Mb/d in 2022, according to pipeline filings with the Federal Energy Regulatory Commission (FERC).
With capacity of 50 Mb/d, Trophy has room to spare and enviable connections with the Plains All American (PAA) and Sunoco (SUN) pipeline systems, allowing its shippers to access destinations like Cushing and US Gulf Coast export docks from Corpus Christi to the greater Houston area (see figure).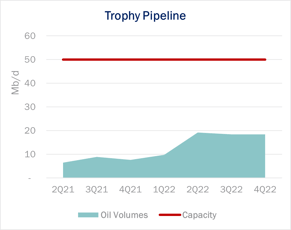 Both Lea and Winkler counties have a substantial number of new leases permitted to be drilled relative to the number of active and producing leases. Data from Texas and New Mexico regulators indicate Winkler County, TX has 386 drilling permits and Lea County, NM has 2,664 permits, which would grow the active well count by 50% and 23%, respectively.
With WTI prices near $80/bbl, drilling in the Permian is holding strong. The basin rig count totaled 356 rigs in mid-April, according to East Daley's latest Midstream Activity Tracker, up 22 rigs Y-o-Y. Moreover, the Delaware sub-basin has been busier than the Midland. East Daley's latest outlook in our March Production Scenario Tools expects total oil production across the Delaware Basin to grow 18% in 2023 (exit to exit). Our forecast is based on an average rig count of ~185 rigs through 2023 and ~3,200 wells turned in line.
East Daley covers crude oil pipelines like Trophy in the Crude Hub Model and in the company Financial Blueprints, available on the Energy Data Studio platform. At 33% utilization, Trophy Pipeline may be in a great position to realize upside from the Delaware's projected growth, as are the connecting Plains and Sunoco pipeline systems. – Kristine Oleszek Tickers: PAA, SUN.
1Q23 Earnings Previews Now Available in Energy Data Studio
East Daley Analytics has published 1Q23 Earnings Previews and Financial Blueprint Models for midstream companies in our coverage. Our industry-leading Blueprints provide historical and forecasted volumes and financial information for 1,300+ midstream infrastructure assets by individual company.
1Q23 Earnings Previews and updated Financial Blueprints models are now available for the following companies: AM, CEQP, DTM, ENB, ENLC, EPD, ET, ETRN, GEL, KMI, KNTK, MMP, MPLX, OKE, NS, PAA, SMLP, TRGP and WES.
Subscribers can access these report on the Energy Data Studio platform. For more information about East Daley's Financial Blueprints, please reach out.
Request Access to Energy Data Studio
East Daley Analytics has launched Energy Data Studio, a platform for our industry-leading midstream data and commodity production forecasts. All clients have access to the new client portal. If you have not yet logged in, please fill out the form to request a registration email be resent.
Energy Data Studio leverages our G&P data set for insights into midstream assets across every major oil and gas basin in North America. Users can navigate detailed visual dashboards by region, pipeline, or individual asset to understand crude oil, natural gas and NGL supply at the most granular level.
Energy Data Studio is available through data downloads from the visual interface, in Excel files, or as a direct feed delivered into subscribers' workflow via secure file transfer. To learn more about Energy Data Studio, please contact insight@eastdaley.com.
Review the Year Ahead in Dirty Little Secrets
The 2023 Dirty Little Secrets is Now Available! Is Midstream on the cusp of another infrastructure wave? Find out in our new annual report.
Dirty Little Secrets reviews the outlook for Midstream and commodity markets in 2023 and the years ahead. East Daley discusses the outlook for crude oil, natural gas and NGLs and the impacts to midstream assets in our 2023 Dirty Little Secrets annual market report. Click here for a copy of the 2023 Dirty Little Secrets report.
The Daley Note
Subscribe to The Daley Note (TDN) for midstream insights delivered daily to your inbox. The Daley Note covers news, commodity prices, security prices and EDA research likely to affect markets in the short term.