The Daley Note: October 4, 2023
Shippers on Permian natural gas pipelines have contended with an eventful outage schedule recently, though you wouldn't necessarily know it based on price moves. The lack of volatility suggests pipeline capacity leaving the Permian has loosened up, likely from a new expansion of Whistler Pipeline.
East Daley Analytics recently reported a 0.5 Bcf/d expansion of Whistler Pipeline went live at the start of September, according to a market source. The project adds three compressors to the 42-inch pipeline running from the Waha hub in the Permian to Agua Dulce in South Texas, taking total capacity to 2.5 Bcf/d.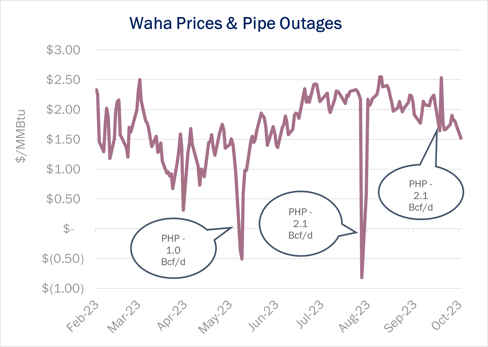 Owned by I Squared Capital and MPLX (MPLX), Whistler has not confirmed the project's in-service. As an intrastate pipeline, Whistler does not face the same disclosure requirements as interstate systems.
Start-up of the Whistler expansion would help explain how Permian Basin natural gas prices have held up reasonably well in the last month despite several high-profile pipeline outages.
The Permian Highway Pipeline (PHP) went offline unexpectedly for four days in mid-September, dropping pipeline egress by 2.1 Bcf/d. East Daley noted that prices were relatively stable during the event, trading $0.66-0.82/MMBtu behind the Henry Hub benchmark. By contrast, Waha gas prices plunged into negative territory twice recently, in late July and May 2023 amid similar or even smaller maintenance events (see chart).
Other outages have obstructed Permian gas recently. The El Paso Natural Gas system experienced a force majeure event at the Roswell compressor station from September 20-27, curtailing some flows to the Southwest. PHP operator Kinder Morgan (KMI) also has reduced mainline capacity from September 27 - October 4, limiting average capacity to 1.66 Bcf/d over this period. The largest outages on PHP were scheduled for October 3-4, cutting service by 750 MMcf/d for two days.
Despite these disruptions, Waha gas traded in a tight range of $1.75-1.90/MMBtu last week, or $0.74-1.00 behind the Henry Hub. Waha was trading $1.18-1.22 behind the Henry Hub early this week (October 2-3) amid the steeper PHP curtailments, still a far cry from the volatility seen earlier this year. The start of the Whistler expansion could be cushioning Permian producers from deeper discounts. – Andrew Ware Tickers: KMI, MPLX.
Sign Up for the Crude Oil Edge
East Daley's
Crude Oil Edge
provides bi-monthly updates on the US Crude Oil Market including supply and demand fundamentals, basin-level views, and analysis of market constraints and infrastructure proposals. We explore sub-basin dynamics and provide market insights on crude oil flows, production growth, and import and export characteristics.
Sign up now for the Crude Oil Edge
.
Energy Data Studio
East Daley Analytics has launched Energy Data Studio, a platform for our industry-leading midstream data and commodity production forecasts. All clients have access to the new client portal. If you have not yet logged in, please fill out the form to request a registration email be resent.
Energy Data Studio leverages our G&P data set for insights into midstream assets across every major oil and gas basin in North America. Users can navigate detailed visual dashboards by region, pipeline, or individual asset to understand crude oil, natural gas and NGL supply at the most granular level.
Energy Data Studio is available through data downloads from the visual interface, in Excel files, or as a direct feed delivered into subscribers' workflow via secure file transfer. To learn more about Energy Data Studio, please contact insight@eastdaley.com.
The Daley Note
Subscribe to The Daley Note (TDN) for midstream insights delivered daily to your inbox. The Daley Note covers news, commodity prices, security prices and EDA research likely to affect markets in the short term.